We used to organise "Electric Spectrum Experience" in Groningen every year, an electronic live music event. Due to the Pandemy we skipped it in 2020/21.
Because we already decided on the artists in 2020 we thought it might be a nice idea to let them play their set live in their own studio. And so it went!
Phrozenlight, Gert Blokzijl, Skoulaman & Son of Ohm on one album!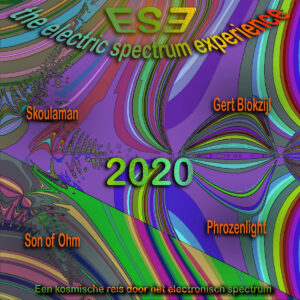 "This album is created because of the Covid-19 Lockdown.
We could not play live in 2020, but we still wanted to give
our fans some new music, so we decided to make an album
with new not previous released music.
All music was recorded live at the artists private studio's.
So called realtime compositions… 😉
Enjoy this trip".
Artwork and compilation by Bert Hülshoff.